2010 Calgary, Alberta, Canada

 Samantha Hans wanted to raise awareness of water challenges and planned a water conference for high school students.
A Water Conference for Youth by Youth was held on Wed. May 11, 2011. The day started with an introduction of UNA-Canada and The Ripple Effect project. The Calgary Current, the Youth Advocacy Group, presented to approximately 50 high school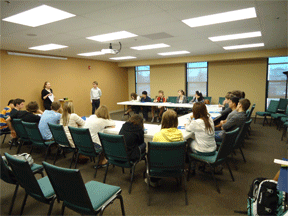 students and their teachers explaining what they do, why they do it, and why they enjoy their involvement in the project. The group of students was then split up into two groups to discuss the basics of water usage, conservation, Calgary's Watershed and sustainability. After a quick snack the students were back to activities which included 'water' Family Feud, learning about the 'water cost' of daily items and an interactive guessing game where countries were compared based on their water usage.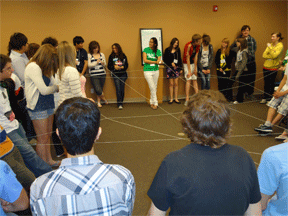 Students designed their own water sustainability t-shirts, and participated in various other learning activities including a presentation from My World, My Choice followed by three speakers with a career spin on water issues. Students were exposed to government, NGO and corporate perspectives, offering them a broader sense of career opportunities than what they would find at a career fair. Speakers included a speaker from Alberta Wilderness Association, Nutrien, and the City of Calgary. The day was filled with engaging information and new perspectives on water sustainability that the students had never heard before. Positive feedback was received from both the students and teachers who attended the conference; The Youth Advocacy Group of Calgary Current was impressed with the student's level of engagement and immensely enjoyed their mentoring role and experience.