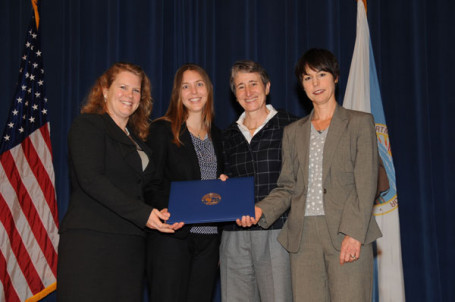 Our community partner in California, The Center for Land-Based Learning, was awarded The Partners in Conservation Award from California Department of the Interior in 2014.
The Partners in Conservation Award is a Department of the Interior Honor Award established to recognize conservation achievements that include collaborative activity among a diverse range of entities that may include Federal, State, local and tribal governments, private for-profit and non-profit institutions, other non-governmental entities, and individuals.This award enables the Secretary to acknowledge in one award the contributions of both Interior and non-Interior personnel. Overall, this award recognizes outstanding conservation results that have been produced primarily because of the engagement and contributions of many partners.
Sally Jewell, Secretary of the Interior, recognized Sacramento's Center for Land Based Learning (CLBL) for their exemplary conservation and partnership service. CLBL partners with the U.S. Fish & Wildlife Service, USDA Natural Resources Conservation Service, Audubon California, the California Association of Resource Conservation Districts, Nutrien Ltd. and other partners to conserve and enhance habitat for wildlife by promoting a healthy interplay between agriculture and nature. The CLBL was nominated by the U.S. Fish and Wildlife Service Sacramento Field Office.
"I take pride in knowing that the partnership with CLBL not only helps to accomplish the Service's mission but that we are also helping to train the next generation of conservation professionals," explained Karleen Vollherbst, USFWS School Yard Habitat Coordinator.
For a great article on award which also highlights Caring for Our Watersheds, see: http://www.davisenterprise.com/local-news/kimball-receives-award-on-behalf-of-conservation-partnerships/