2018, Greeley, Colorado, USA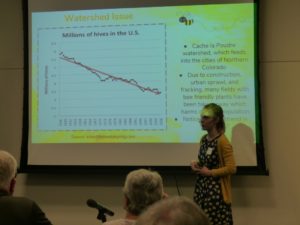 S.Greta Krombholz, Greeley Central High School
Greta realized that everyone is being told that we must save the bees.  However, most people don't understand why this is a critical concern for today. Her goal was to educate the community about the bee problem and plant bee friendly plants.  Greta developed a pamphlet with facts about about local bees and how to take care of the garden.
 She combined the pamphlet with a package of seeds for plants that are bee friendly and distributed these around Greeley. Each packet of seeds contained marigold, lavender, sunflower and poppy seeds for planting.
For a small budget of $165, Greeley will have gardens full of bee friendly plants this summer.