2015 Sacramento, California, USA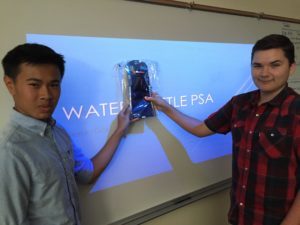 Justin Yu and Kieran Garcia from The MET Sacramento were concerned with excessive plastic water bottle use by the student body at their school.  They recognized that even know these bottles are recyclable, that many end up in the trash and thus landfill—or even littered around school and the community.  They also learned that some of the water used in plastic bottles was not necessarily from sustainable water sources or, in some cases, not different from tap water. They wanted to provide students with an easy alternative to plastic bottle use by providing reusable bottles to their classmates, and by delivering a PSA-like presentation to classes to encourage daily use.
With the help of Caring for Our Watersheds project funds, Justin and Kieran purchased reusable bottles and prepared a presentation for their classmates on the negative effects plastic water bottles have on the environment, the benefits of reusable bottles, and other simple ways to practice sustainability in one's daily life.   They were able to distribute the bottles to their advisory class as well as raffle them off to other students that attended their presentation.