2015 Sacramento, California, USA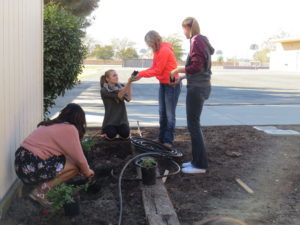 Colusa High School Students Gabriel Garcia and Jennifer Pulido identified an area of their campus that was in need of improvement. It was a large area of bare ground that, in the event of a storm, would become a source of excess sediment due to surface runoff from the school. It was also a highly visible spot that would make an excellent gathering place for students during lunch or outdoor learning opportunities.
Their idea was to implement a landscaping project in this area with native, drought tolerant species.  Their project would demonstrate the use of native species that require less watering, and do not need fertilizers and pesticides, thus addressing issues of water quantity and quality.
They hoped to beautify their campus, reduce sediment delivery, and create habitat, but also to inspire other members of their community to landscape with water conservation in mind as well.
After Gabriel and Jennifer took 6th place in the Caring for Our Watersheds Final Competition, they wanted to make their idea come to life. With the help of the students of their school's Environmental Science Academy, their project was accomplished.  With the help of Caring for Our Watersheds project funds, high traffic areas of the site were covered with fabric and gravel, landscape beds were built around the perimeter, drip irrigation installed, and native species planted.