2016, Winnipeg, Manitoba, Can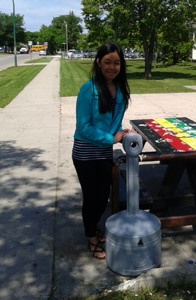 ada
"The number one most littered item in Canada and worldwide are cigarette butts," wrote Garden
City student Sheree. "People are simply unaware of the environmental impacts cigarettes have, or believe that because there is already litter on the ground, it would not make a difference if they followed suit. " These cigarette butts end up in our water where they leach out chemicals and pose a hazard to wildlife mistaking the trash for food. According to the David Suzuki Foundation, Sheree discovered "cigarette butts are made of cellulose acetate, a non- biodegradable plastic, which can take up to 25 years to decompose."
Her solution was simple- to purchase cigarette receptacles to place at two hot spots on school property so that cigarette butts could be disposed of properly. Thanks to a contribution from Nutrien Sheree was able to do just that!