2011 Lethbridge, Alberta, Canada


While most middle school students are worried about the present, Cassandra Schinkel is more concerned about the future. That's why she took it upon herself to build and distribute Caring for Our Watershed Kits to help raise awareness and educate her peers about the importance of their watershed and of taking steps to care for their watershed.
Cassandra felt that it is very important to get children
involved at an early age so that they can be educated
about the environment and help preserve the world they
depend on for future generations. It's important to raise awareness as many people take the watershed they live in, and the functions it provides, for granted. With her passion for raising awareness and of educating younger generations about the watershed they live in and what they can do, Cassandra hit 7 grade five classrooms in Lethbridge equipped with a 15 minute powerpoint presentation and 150 Caring for Your Watershed kits. Over 150 students heard her presentation and received a kit.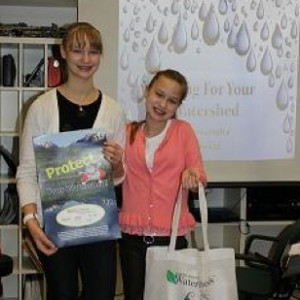 Each Caring for Your Watershed kit contained a watershed word search, bug jar, CFW seed bookmark, water warrior notepad, water warrior badge, water drop ball and a coloring sheet.
Cassandra wanted her project to be educational and fun at
the same time. What she didn't expect to find out through
the implementation of her project was that she actually taught the teachers something about their watershed, as well as the children in the classrooms she visited.
Cassandra received corporate support for her project from Nutrien, Alberta Agriculture and Rural Development, St. Mary River Irrigation District and the Oldman Watershed Council.