2011 Ponoka, Alberta Canada


Kaitlin, Katie, Vickie and Melissa became involved in the Caring for our Watersheds contest as a classroom project at St. Augustine School in Ponoka. Their idea was to create a fun and educational books series for students in grades 2-4 about how their actions impact the watershed and what they can do to help.
The book series is called "Otis and Friends Environmental Adventures" with this premier book titled "The Mystery of Missing Water". In the story Otis the duck's pond is drying up due to high levels of water consumption in the nearby town. Luckily a special little girl who likes to walk by the pond notices the low water and her and her family start making changes to their water use. The neighbours take notice of their new habits and soon everyone is conserving water, saving Otis and his friends.
The book also has a fact sheet about the Northern Pintail Duck, who Otis is based on. There is also a list of 8 easy actions that families can take to reduce their water consumption.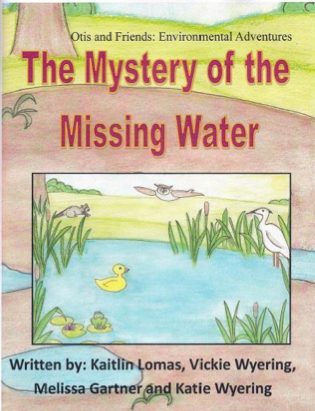 The girls visited all of the grade 2-4 classrooms at their school for book readings, and the students all really enjoyed the book. After receiving funds from Nutrien, Keyera and Grey Wooded Forage Association for printing the book, they held a book launch party at their local library. The book has been distributed to all of the Parkland Regional Libraries, as well as through school visits by the Battle River Watershed Alliance.