2014/2015 Gimli, Manitoba, Canada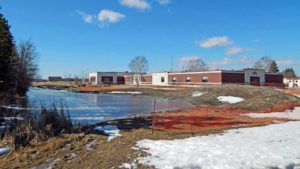 Dean Mulroy and his team of fellow students proposed a very ambitious wetland creation project in Gimli, Manitoba. They wanted to expand an existing creek running along the school property into a larger wetland.
"The Willow Creek watershed, which is our area's closest section, is along the western coast of Lake Winnipeg, also known as the Interlake region. It contains the rural parts of Armstrong municipalities, Gimli, Rockwood, St. Andrews, and all of the surrounding cottage country. This watershed's drainage is roughly 1,210 square kilometers and contains roughly 620 km of ordered drains with two lake complexes"
They knew the natural filtering process would improve the health of the watershed as a whole. As well, they wanted students and community to benefit from the both the opportunity to study the area and its beauty. This team worked with the municipality, Manitoba Hydro, and the local Conservation District to ensure the feasibility of the project as well as to secure funding partners.
The success of this project is thanks to a dedicated team and strong community support!