2015, CINCINNATI, OH, UNITED STATES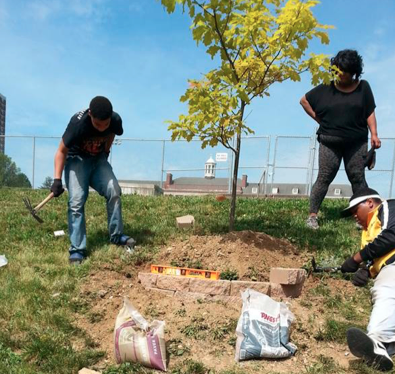 There is a hillside on the east side of Withrow High School's campus, just above the parking lot that has had several trees struggling to grow. This hillside had many erosion problems in the past and one student decided enough was enough. Chadwick George was close to graduation, but wanted to improve his school before leaving for college. Chadwick proposed to build very small retaining walls on the slope below each tree. These walls, which he called tree wells, would help to slow the rainwater and runoff from above so that it can more naturally soak into the ground and help the trees grow.
After placing third at the Caring For Our Watersheds final competition, Chadwick worked with his teacher, Jody McOsker, over the summer to level out and place tree wells on over 20 trees on the hillside. This project has certainly helped to not only improve water quality and runoff at Withrow High School, but Chadwick has completed his mission of improving his alma mater and leaving a great legacy.