2015 Virden, Manitoba, Canada
With the help of fellow students and staff at Virden Collegiate, Ashley and Kelsey proposed a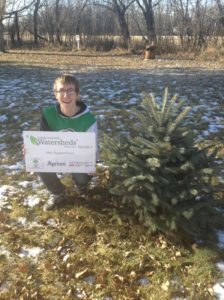 simple and important idea to support their watershed: planting a shelterbelt.
"The issue we would like to focus on is the issue of water quality caused by erosion of soil due to a lack of trees and the eutrophication of lakes due to runoff from fertilized farmer's fields as well as livestock fields, golf courses, residential homes that use fertilizers on their grass, and improperly treated sewage."
With such a large list to tackle, the team looked to the power of trees.
"The roots of the trees will prevent soil erosion from the fields surrounding Gopher Creek, as well as protect its banks from collapsing."
Working with their local conservation district, the Upper Assiniboine River Conservation District, and with the help of Nutrien, the students were able to successfully plant their shelterbelt, improving life for all.