2021, Winnipeg, MB, Canada
When Katelyn Panchoo from École Seven Oaks Middle School in Winnipeg, MB interviewed students at her school, she found out that many of them pick up their dog's waste using regular plastic bags. She thought about all the plastic waste that must be thrown in the trash, and thought that she could help reduce it by proposing biodegradable dog bags!
"Dog waste and dog bags have a bigger impact on our watersheds than you think."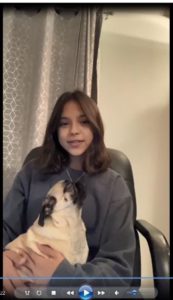 She created a virtual presentation about the way that dog waste and plastic dog bags can impact her watershed that her school mates were able to watch online, and then samples of the biodegradable bags were distributed to students with pets at home. Katelyn hopes that these students and their families will make the permanent switch to these eco-friendly bags and encourage others to do so, as well!