2010 Vanscoy, Saskatchewan, Canada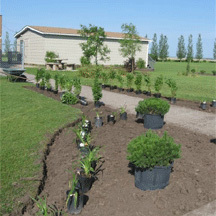 Vanscoy School had 7 out of the top ten finishes in the grade 7-9 category of the Caring for our Watersheds competition. The finalist teams from Vanscoy School have decided to work together to implement as many of the projects as possible. Their project ideas include new taps for the school, green space development around their school, education and awareness activities and composting.


"This project has shown me that the students are aware of the environment around them and are willing and able to be champions for change. We, as adults, just have to listen to them." said Ms. Amanda Schafhauser, a grade 7 and 8 teacher at the Vanscoy School.
The Eco Garden project was developed by Grade 8 student Brooke Van Damme, who said "My project was called the Eco Garden. I wanted to implement my idea because it would be a good way to save water and stop water pollution while making Vanscoy School a more attractive place to be. I hope it will help Vanscoy be more aware of our watershed and the effects we have on it." The students are leaving a lasting legacy for their school for generations to come. June 22, 2010 the students from Ms. Schafhauser's grade 7 and 8 classes prepared and planted their green space garden. The planted trees will work as a shelter belt, sheltering the roadway and parking lot from the build up of snow while the gathered snow will melt into the ground. In the fall, the students will work the area again to prepare it for the coming winter.
Three out of the 7 projects presented by the teams from Vanscoy included new taps for their school to help minimize their wastage of water. As a result of their research, the students decided to go with an automatic sensor taps. 14 taps were purchased and installed in all of the school washrooms during the summer break.
The total budget for the student's project is over $18,000, more than $8,000 of which is being donated by the students as their time, the school division's efforts, and Lakeshore Tree Farms. The rest of the funds are provided by the Nutrien Caring for our Watersheds Project.