2012 Sacramento, California, USA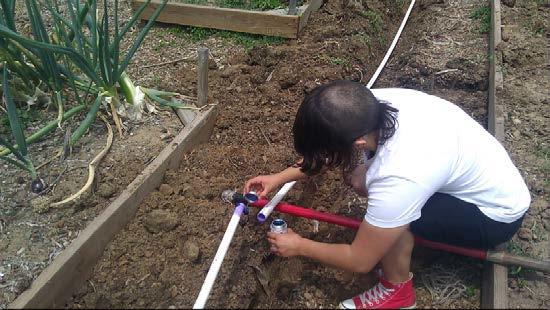 Students in the Green ROP Program at William Daylor High School were concerned about the amount of water that is wasted by home or commercial building owners that use older or traditional methods of watering their yards, gardens, or landscaping. tools such as sprinklers and hoses themselves, or when used during an inappropriate time of day, can often lead to an inefficient use of water. As water conservation is critical in California, they wanted to complete a project in their school garden to demonstrate a water efficient drip irrigation system.
The team submitted a proposal to install drip irrigation to the school garden, but also wanted to incorporate a water catchment barrel, pump, soil sensor, and solar=powered controller for the system.
The students worked with an irrigation specialist from the city who met with the students at school to show them how to install drip line to the boxes, and to show how a solar controller could help them regulate the watering of the garden. This specialist was able to get distributors to donate many materials and equipment, such as the drip line and solar controller. The students utilized the Caring for Our Watersheds implementation funding for the pump and sensor.
The Green ROP class now has an efficient, educational tool for the students to learn from because they can program watering times and lengths according to the change in season, temperature, and needs of the plants. The school no longer mishaps of over-watering by people leaving the sprinklers or hoses running. The rain barrel and pump is hooked up to the irrigation system to be used first before they need to use the city water source. The project truly demonstrates water efficiency and was a real success!