2017, HAY LAKES, ALBERTA, CANADA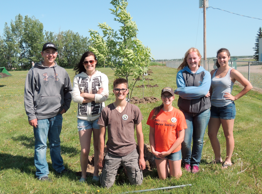 Dana Sych and Soren Skaret decided that to help improve their watershed, they would plant green ash trees in their school yard. After much research, the pair decided on Green Ash trees because they grow quickly, require little maintenance, and do well in wet areas but can also survive drought and cold winters- something important in this small Alberta town. They wanted to plant trees in a low spot of the school yard that often is too wet to play in, and becomes a mosquito breeding ground. They thought by planting trees the water could be absorbed, and the trees would have water to drink. Win, win!
The team also made the connection that by adding trees to their school yard, they would be directly helping to improve air quality. They included the younger grades of their school in the tree planting to help educate them about the importance of the environment and taking personal responsibility.
Dana and Soren hope that these trees will be part of their legacy at the school, soaking up the extra water, and providing shade and a wind block to students for years to come.