2013 Forestburg, Alberta, Canada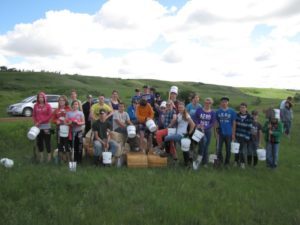 The Golden Prairie 4-H club out of Forestburg has made a positive impact in the Battle River Watershed. Maven Boddy, a natural leader in the club, entered the Caring for our Watersheds contest with a proposal to improve riparian health that was both multi-faceted and forward thinking. Her plan to improve riparian areas involved planting hundreds of trees along the riverbank, but that wasn't all. Her plan also incorporated educating the club and community on the importance of riparian areas and implementing a long-term health assessment on the project site.
Prior to tree planting, the club planned an educational canoe ride along the area of the river that would be restored with the seedlings. During the ride participants were taught about riparian areas and factors contributing to their declining health. This was also a great opportunity for a crash course in Alberta ecology, with a plethora of birds and other animals to see and hear.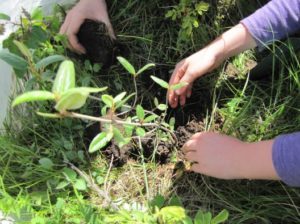 On the tree planting day approximately 30 volunteers from the 4-H club gathered to plant over 200 seedlings. A variety of native trees and shrubs were chosen that would grow well in the Alberta climate. These trees will improve the strength of the riverbank with their roots and also provide wildlife with habitat for years to come. The project site will now be monitored in order to determine how the health of the area is improving. Maven invited local experts to carry out riparian health assessments and bird surveys, and a second round of assessments is planned for a few years down the road. Funding for the trees and health assessments came from a Victory Canola 4-H Grant as well as from Nutrien's implementation funds.