2014 Washington, DC, USA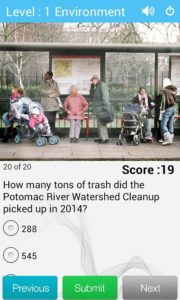 When students at Roots Public Charter School walked around their neighborhood to determine its environmental weakness and strengths, they noticed a lot of litter, specifically cigarette butts. They recognized that smoking isn't only a health issue, but a source of harmful pollution in the Anacostia and Potomac watersheds. In an effort to get people to recognize the negative effects of cigarette smoke and litter, the students designed an app called, "Play Away the Smoke".
The app is a game in which players move to the next level by correctly answering questions about the impact of cigarette smoke on the environment, economy, and human health.
The Roots students' project was the 1st place finalist in the 2014 Caring for Our Watersheds competition. Through the summer following the finals, the students and their teacher Carlene Burton worked with an Android app developer to bring their concept to reality, and their contracted services for app development cost
$6,500, provided through implementation funding from Nutrien.