2019, Pilot Mound, Manitoba, Canada
Colin Hildebrand, Joryn Buchanan, Donovan Kimball, and Riley Kimball are all students at Pilot Mound Collegiate in Pilot Mound, MB. When they were posed with the question of what they could do to improve their watershed, their thoughts took them outside to their schoolyard.
"Our problem lies in the excess water that our school ground produces and contends with… So how do we help manage excess water and potential pollutants?"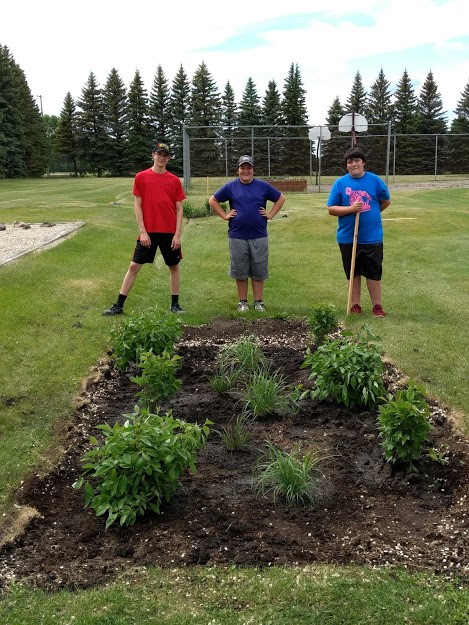 In speaking with the school's custodian, they were able to see where drainage water flowed, accumulated, and moved across the school property. They realized that this runoff water could be picking up contaminants and sending them into local waterways and could also be contributing to flooding issues in their area. They approached their local conservation district (CD), the Pembina Valley CD, to discuss ways to mitigate these issues. Together, they came up with the idea of rain gardens along the natural swale running through the school yard to filter runoff, increase water infiltration, and reduce pollutants entering nearby waterways.
"We [will] create three rain gardens [along the existing swale]… The rain gardens will slow the water using berms, and the native plants will create more infiltration into the soil due to their large root systems."