2016, Bruxelles, Manitoba, Canada

Manon Ketsman from Nelly McClung Collegiate wanted to help with the restoration of a local community park.
"Bruxelles sits within the Pembina Valley Conservation District and is also within the Cypress River Watershed, which drains into the Assiniboine River.
The region around Bruxelles is considered to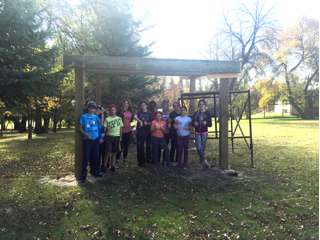 have poor agricultural capabilities and much of the Southern portion of the Cypress River Watershed is considered moderately to severely at risk of soil and bank erosion.
The Peace and Plenty Garden will be a welcome addition and after much discussion it was decided that a water catchment would be a great addition to the park as it would add a learning area for students and it would be beneficial towards their education. This water catchment will teach the students about water conservation and how important water actually is as a resource when it comes to agriculture. They will use the water collected in the catchment to water the butterfly gardens as well as their vegetable gardens."