2021, Calgary, AB, Canada
Jessica, Sage, and Zoee, grade 8 students from Cardston Junior High School in Cardston, Alberta looked to help bird populations in their community, their county, and the Oldman Watershed.  After speaking with Parks Canada, they researched a lesser known native species, the Mountain Bluebird, which relies upon the Oldman Watershed in the area.  These small, colourful birds are declining due to habitat loss and increase competition with other birds like sparrows and starlings.  Jessica, Safe, and Zoee decided to take action by working with the Mountain Bluebird Trails Conservation Society in Lethbridge, and planning, building, and donating wooden bird boxes to help some of these birds.
Jessica, Sage, and Zoee worked with a local hardware store to prepare the materials, and educated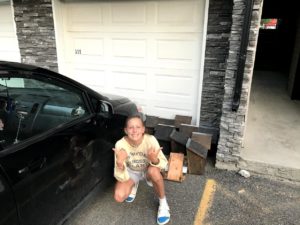 their classmates on native bird species throughout the process.  They garnered the support of their teacher, principal, siblings, and parents in the school community to help out with various aspects of the project, such as transporting supplies and cutting the wood.  All four grade 8 classes were involved in learning about the bird boxes, as well as assisting with the construction of them.  These three organized everything into kits, taught other students how to construct them, and delivered the bird boxes to the conservation society.  The organization will then install them throughout the area so that they are ready for the birds that may need them for years to come, including the beautiful Mountain Bluebird.
By researching, planning, and fostering interest in this cause, Jessica, Sage, and Zoee hope to help support local bird populations by providing consistent shelter and safe nesting sites, while raising awareness about native bird species and the factors that may be contributing to declining populations.  The whole project – from idea to proposal to implementation – was a fun and engaging learning process that has taught these students to better appreciate efforts to protect and care for our watersheds!