2012 Selkirk, Manitoba, Canada
What don't the students use the water fountains in Lord Selkirk School? Jason Bzura wanted to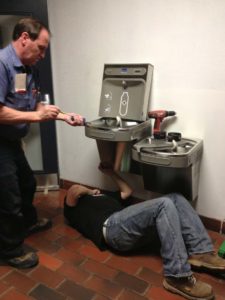 investigate the answer. The flavor of the water was one reason, and the second was the inability to fill reusable water bottles. He did a great deal of research on water quality but in the end, a simple water filter to improve the flavor and a filling station was the answer.
He asked the students and they agreed if this would exist in their school they would reduce if not eliminate their purchase of water bottles.
Nutrien contributed $1,000 to this project.
"The water bottle filling station is almost up and running. It has been installed but we are waiting on one part that was damaged in order for it to work. The students are constantly stopping by it and try to fill up their water bottles. We had to put a "coming soon" sign on it. I am sure that once it is in working order then several plastic water bottles will be diverted from the landfill."