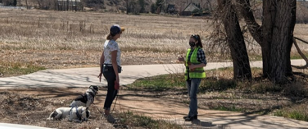 2021, Greeley Central High School, Greeley, Colorado, USA
Saria Mowrer
Saria found that the population of Little Brown Bats has decreased 90% in the past 20 years alone, and scientists predict that they may be extinct by the year 2030. This is due to habitat loss as well as a fungal disease known as White-Nose Syndrome (WNS) that has been wiping them out by the thousands. WNS wakes bats up during hibernation, and causes them to lose the fat that they had built up to survive the winter. It is caused by pollution in and near bats habitats, so the best way to combat it is to provide clean habitats for local bat colonies.
To address this concern, Saria installed thirty bat boxes throughout fifteen different parks and trails in Greeley. Bat boxes provide bats with a clean and safe place to live and raise their pups. She also handed out bracelets with an informational pamphlet on the problem at hand. Saria has spread awareness in her community while also providing clean and safe homes for bats!
Watch this video to learn more about the positive ripple effect that Sarai's project had on her community.

2021 CFW International Idea Recipient
We are please to announce that Saria's project has been chosen as Caring for Our Watersheds International Idea for 2021 and CFW has taken steps to implement her idea internationally!
Saria's bat bracelets, along with a keychain alternative, have been distributed across CFW contests around the world. Additionally, CFW made a $5000USD donation to Bat Conservation International to further Saria's mission of ending bat extinction on a global scale!
Congratulations, Saria!