2023, LOVELAND, OHIO, USA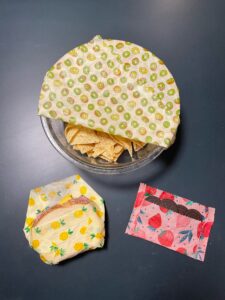 The Bee The Change project was run by four 9th grade students from Loveland High School, Erin, Ian, Keira, and Melia. Their idea was to give out beeswax wraps to people in their community, so that they could be used in lunches and homes instead of plastic lunch bags or cling wrap. They chose beeswax wraps because, unlike plastic, they are made of natural materials and can be used for up to a year before quickly, and completely, biodegrading.
With their budget they bought packs of beeswax wraps, paper bags, bee keychains, and printed pamphlets that they designed and instructional sheets. Then, they put together 250 kits, which were a paper bag, each containing a small beeswax wrap, a medium or large wrap, a pamphlet, and an instruction sheet.
One weekend, Ian and Melia went to downtown Loveland with a sign to hand out kits. They used bee keychains to excite younger kids and gave out almost 100 kits in total. Then their teacher sent an email to all the staff at their school. They got almost 50 requests for their kits. The next week, in their school, it was environmental week, so on "bee day" they went around the lunchroom and gave out kits. They also gave the remaining bee keychains to students wearing black and yellow. Finally, they gave out their remaining 30 or so kits after their presentation at the zoo.


The group planned to affect Sustainable development goals 3 and 6. Goal 3 intended to help clean water and sanitation, while 6 promotes human health and wellbeing, both of which their project will impact because it reduces the amount of microplastics in the watershed. More specifically, they wanted to aim for sub-goal 14.1, which will prevent and significantly reduce marine pollution of all kinds by 2025.
On their pamphlets was a QR Code to an optional survey. From the survey the students were able to see that 85% of people had never used beeswax wraps, but 78% planned to use them in the future.
Their project is meant to help others be more sustainable in their daily lives. They hope that the recipients of the wraps will continue to give other sustainable products a chance, as well as share new products with others around them. They also hope their project will inspire other people to do similar projects promoting sustainability in new and different ways. Overall, their goal is to be(e) the change and help others be the change in sustainability.