2012 Ponoka, Alberta, Canada


Alyssa Klinger wanted to help improve her watershed by planting trees in the community park and trail system along the Battle River in Ponoka.  But this innovative student had more than an idea; she had a plan to make it happen.
The Beads for Seeds project raised money to plant trees by making beaded watershed bracelets and selling them in her community.  Alyssa was able to raise hundreds of dollars by selling her bracelets at local sport tournaments, local businesses, the Ponoka Stamped and through friends and family.
By using the money raised from the bracelets, Alyssa was able to purchase 500 spruce plugs from a local nursery. Grade 9 classes from St. Augustine School joined Alyssa at the banks of the Battle River to plant the trees.  Even the principal came out to help!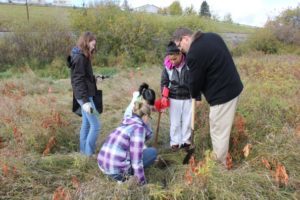 The Battle River, this park, and the town of Ponoka will be enjoying the increase of trees and biodiversity, and decreased erosion for a long time to come because of Alyssa great actions.