2013 Arlington Heights, Ohio, USA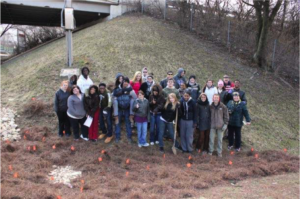 A group of three students (Julia Love, Janae McClair and Sanoma Capps) who attend Arlington heights Academy submitted a proposal called "A Rain Garden for I-75 Runoff" to Nutrien's Caring for our Watersheds contest during the first Ohio competition in 2011-2012. They came in first place!
After the final competition, they met with Wes Duran from Marvin's Organic Gardens in the fall of 2012 to design and plan implementation of their rain garden. Students worked on determining the plant types, plant numbers and design layout. They also worked on the budget and set a date to start planting. Their budget was $2,00 with one half coming from Nutrien's grant the students won and the other half a matching grant from Groundwork Cincinnati – Mill Creek, a local non-profit group dedicated to the restoration of the Mill Creek. The date they chose to plant the garden was March 21st, 2013.
Before the studetn's knew it, it was March and time to plant. It didn't take long to complete the project that they had been anxiously waiting for; to have their proposal become a reality. With the help of their classmates and the support from their community, the rain garden was completed!
This is a perfect example of how one idea can truly make a difference through hard work and determination. Though the work is done and students will graduate and move on, the teachers and community will continue to care for the rain garden. For instance, they will be responsible for watering the rain garden in the summer and make sure the plants are thriving. Any dead plants will be replaced to maintain the design and function of the garden.
We even have a video of our planting!