2016, CINCINNATI, OH, UNITED STATES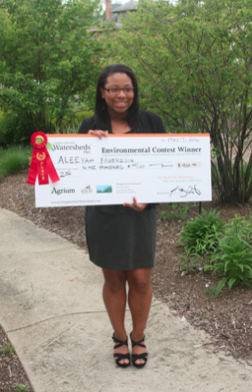 The Mill Creek, one of Cincinnati's main waterways, has a water quality that is often defined as 'fair' or 'poor' due to the large amounts of contaminants that runoff into it. Aleeyah Nurredin's high school, Mount Notre Dame, is next door to a convent with a stream that runs into the Mill Creek. To prevent the problem of damaging runoff, she proposed to create a rain garden. This garden would increase the water quality and reduce the flooding potential into the stream by the convent too.
This project would engage the larger MND community, collaborating with students to create the garden itself while educating residents of the convent next door. A rain barrel would first be installed after a group digs up a space for the garden, diverting water from the gutters. The underground basin would then be lined with stones to prevent erosion before being filled with soil and appropriate native plants. These plants would be arranged based on their water tolerance in order to promote the most success. Finally, once the plants are in place, the rain garden would be covered with a layer of mulch to keep the soil most. The rain garden would create a space of community enjoyment while also making positive changes to the environment due to the cleaner water going into the watershed.