2012 Virden, Manitoba, Canada


Chelsi Malach is a passionate student who wanted to improve a local wetland called Eternal Springs, located east of the town of Virden. Along with local community members enjoying the site, this area is also used to teach younger students about the importance of watersheds and wetland conservation.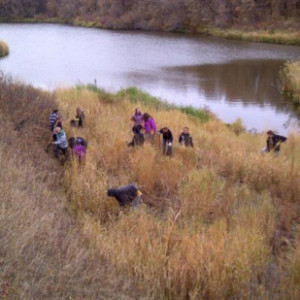 While volunteering at the site as an educator, she observed severe bank erosion following the spring flood. There is also an increase in invasive species such as Purple loosestrife.
Her proposal was twofold: to create a buffer zone along the bank by planting a diversity of vegetation, and to assess the invasive species on the site. This would be followed up by manual removal and monitoring.
Chelsi partnered with the Upper Assiniboine Conservation district for their expertise and assistance. As well, the grade 12 biology class participated both in the removal of the invasive species and planting of local vegetation to stabilize the stream back. Her passion enthusiasm for this project has now been shared with the school and community.
The Caring for our Watersheds contest provided Chelsi with over $3,500 to make this ambitious project a reality.