2012 Greeley, Colorado, USA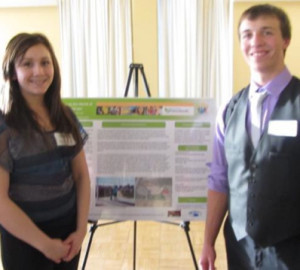 Josh Croft & Stephanie Lopez, Northridge High School, xeriscaping project started out as four pieces of land located in their school's front parking lot, but because of a new set of greenhouses installed on the east side of the building, the project was relocated.
Croft & Lopez completed most of the planning, landscape design and budgeting during the spring of the year. Ruth Quade, Water Resource Specialist with the City of Greeley, continued to mentor the team through the selection of the type of plants, planting arrangement and purchasing locations.
Removal of the existing plants was delayed throughout the summer. Both students graduated in the spring and headed off to college but before packing their bags, they passed off the 2nd place proposal to the Northridge Horticulture students in order to achieve full implementation. The Horticulture students contacted Eaton Grove Nursery to purchase the selected xeric plants. The low-water landscaping has been installed in front of the newly constructed greenhouses and will be part of the entry way to plant growing spaces. Future plans include placement of signage by the club to identify the plants, water saving advantages and to help inform others how this idea really works.
The Northridge Grizzles appreciate the support from Nutrien to bring the contest to Colorado and the donation of $1000 to implement this solution at our school.