2012 Winnipeg, Manitoba, Canada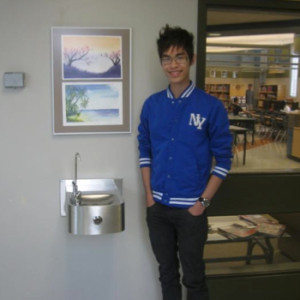 Transcona Collegiate student, Lloyd Flores, conducted research and came up with a solution to a problem he observed in his school. There were a large number of plastic water bottles used by the students on a daily basis and he wondered why. He therefore conducted a student survey and discovered it was the state of the water fountains (rusty, broken) that was deterring students from using them.
Lloyd proposed that by updating the fountains in his school and adding a spout to encourage the use of reusable bottles, this would significantly reduce the waste generated by the bottles. As an International student, Lloyd was extremely nervous about presenting his project in front of an audience, particularly because they included judges. He felt his English was not strong enough. With some encouragement and practice, Lloyd felt more comfortable and earned and 8th position in the contest along with generous support from Nutrien ($4220) to upgrade the fountains in his school.
Lloyd also told us learned a lesson in patience as it took over a year for the project to be implemented due to logistical problems at the school. He is excited about the fact he was able to initiate a plan for his peers. Feedback from the students at Transcona Collegiate has been extremely positive!